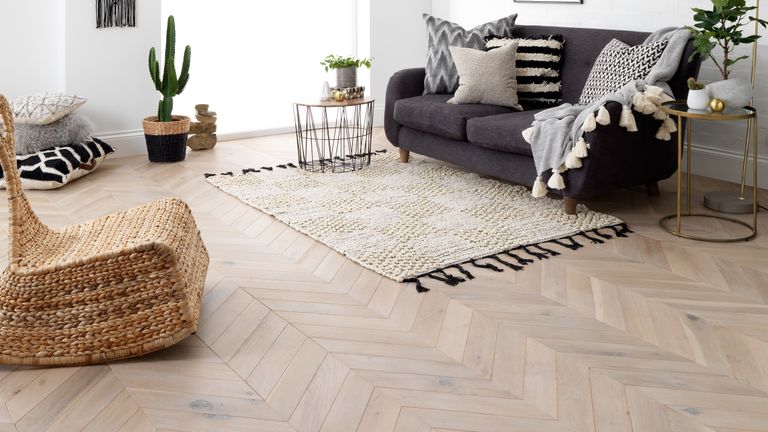 Having a luxurious and elegant home can bring a good feeling to the owner. To get a house like that, you need to consider many factors. One of them is related to the selection of large floor tiles or floor designs.
Well, from many choices of floors that can be used to display the impression of luxury and elegance, here are the 5 best options:
Parquet wood
The floor of a wooden parquet could be the first consideration. This type of flooring is made of wood. Although made of wood, parquet floors offer a variety of pattern choices.
Wood parquet flooring can be found in 2 types. The first type is made with real wood, sold at quite expensive prices. For cheap wood parquet options, you can choose parquet made with processed wood which is generally referred to as engineered wood or laminate wood.
Granite
Granite is the next floor that you can choose to give the impression of luxury and elegance. Granite floor can display that impression with its shiny surface. At the same time, granite floors also have a high level of durability.
Not only that, but the granite floor also provides benefits in the form of easy maintenance. However, to obtain the benefits of using this type of floor, you have to pay a fairly expensive price. Also, the installation process must be carried out by skilled personnel.
Slate
The look of a luxurious home is also able to be your house theme if you use a slate floor. This type of house flooring is made using natural stone. Slate flooring has rough and sturdy surface characteristics.
Slate is the type of floor that is often chosen to showcase the design of contemporary luxury homes. The slate floor usually offers a dark color option.
Marble
The floor of the next luxury house is a marble floor. This type of floor has a high level of durability just like granite. Besides, marble floors able to present a cool and comfortable atmosphere of the room.
Also, this type of house floor does not need special care. When the floor is dull, you can clean it so that it returns to sparkle with special cleaning fluid. It's just that you have to spend enough to use this floor because the price is expensive.
Ceramics
Ceramics have become a type of floor often used by rich people and aristocrats. Well, you can also use this type of house floor to display the impression of luxury and classic at the same time.
Compared to other types of luxury and elegant home flooring, ceramics offer economical prices. Also, you can also find a variety of motifs that can be adjusted to taste. Not only that, this type of floor also offers high durability.
You can choose one or combine several types of floors in one house.